Pandemic Flu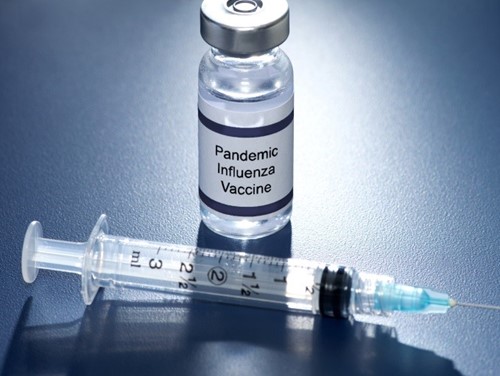 Pandemic occurs when a new influenza virus emerges for which people have little or no immunity.  It is able to spread from person to person, and for which there is no vaccine.
There are important differences between 'ordinary' seasonal flu of the kind that happens every winter.
Pandemic flu is able to infect more people over a large geographical area very quickly and cause more severe illness in a large proportion of the population.  Unlike the normal flu virus, a flu pandemic can occur at any time in one or more waves, possibly weeks or months apart.
What is Pandemic Flu?
Influenza or 'flu' is a respiratory illness associated with infection by influenza virus. Symptoms frequently include headache, fever, cough, sore throat, aching muscles and joints. Influenza occurs most often in winter and usually peaks between December and March.
Each year, seasonal influenza brings about variable effects in successive winters and in some years causes intense pressure on health and social care services and significant levels of absence from the workplace and schools.
Unlike ordinary seasonal influenza that occurs every winter, pandemic flu can occur at any time of the year. Pandemics arise when a new virus emerges which is capable of spreading in the worldwide population.
Possible Consequences:
Many people affected – up to 50% of the UK population experiencing symptoms
Higher than usual number of deaths
Health and social care services stretched
Vulnerable people at a higher risk
High levels of staff absenteeism affecting the provision of essential services
Normal daily routines become affected
What are we doing in Gwent?
We will work together to plan for the management of the increased demand on the NHS and social care
Distribute antiviral medication to those at risk
Vaccinate with the newly developed vaccine once it has been developed
Raise public awareness within our communities
Manage the higher than normal level of fatalities
Maintain and further develop multi agency pandemic flu plans
What can you do?
Keep healthy – a healthy lifestyle will be a great defence against flu and other illnesses
Identify a flu friend – somebody who would collect your medication, food and other supplies allowing you to stay at home when ill
Know and understand your children's school arrangements for such matters
If eligible – GET YOUR SEASONAL FLU VACCINE
Be hygienic – cover your mouth and nose when you sneeze and always wash your hands
Look out for advice and guidance from the NHS and make sure you follow it